Typeface: Coales Black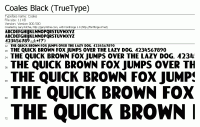 This is a revival of the type specimin found in my remake of the Save Light, Save Coal poster by Phillip Coles.
When I was recreating Coles' World War I era poster I had thoughts of using the letterforms as the core of a complete typeface.
The result is Coales Black which is intended to be the heaviest weight in a family of about two additional faces. As a "display" font it is best used in titles, headings, logos — where not a lot of reading is involved.
If you use this typeface I would love to hear about it.
Currently, only a "beta" version is available. I am still refining the type but have been anxious to release it.
Download
file: Coales_050920_05.ttf

Coales Black in TrueType format, version 0.5 (beta), A-Z, numerals, punctuation.

Filed under: Typeface, Work in progress