Icons For Every Occasion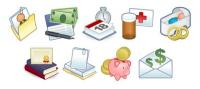 Icons, those little clever representations of larger ideas, are one of the most challenging and enjoyable tasks for this designer.
Software, websites, t-shirts all deserve meaningful and attention-getting pictograms. Most icons are designed in a way to be used at any size and resolution, enabling the same artwork to be used in both print and on the screen.
The color icons were designed and produced for online financial software used by Fortune-500 companies.

The monochrome icons were developed for the State of Pennsylvania's economic development website InventPA.com (2003).

Filed under: Illustration, Icon