Open Wonderland Web Site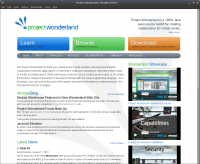 Web site design for Sun Microsystems virtual world platform, Open Wonderland
"Open Wonderland is a 100% Java and open source toolkit for creating collaborative 3D virtual worlds. Within those worlds, users can communicate with high-fidelity, immersive audio, share live desktop applications and documents and conduct real business. Wonderland is completely extensible; developers and graphic artists can extend its functionality to create entire new worlds and new features in existing worlds."
Deliverable was an installable Joomla! template with core and 3rd party module overrides.
Note: Project Wonderland was discontinued by Oracle/Sun Labs and is now available as Open Wonderland and managed by the Open Wonderland Foundation. I updated the logo to reflect this change.
Visit Open Wonderland.
You can also view details about the logo design.

Filed under: Interface, Web Site